BUPLAS: Communication Assessment
BUPLAS (Business Performance Language Assessment System) is an end-to-end communication assessment framework purpose-built for the BPO industry.
Developed by FuturePerfect and Cambridge University Press, BUPLAS aims to set the standard for BPO communication assessment.
Best Assessment

Tests the skills actually required for successful customer service interactions.
Increases efficiency by using the one communication assessment framework throughout the different departments of a company from recruitment to training, to operations and quality (end-to-end).



Right Agents

Profiles candidates accurately into different accounts.
Enables you to easily target training / coaching solutions to your agents' needs.



Quality Performance

Assess agents' communication skills on their actual calls.
Allows you to be internally sustainable.
BUPLAS End-to-End
an end-to-end solution to all your communication assessment needs
BUPLAS provides you with all the tools, training and skills to accurately assess communication.
With extensive online support you can easily track improvement, analyze performance trends and ensure you have the right agents for your customers.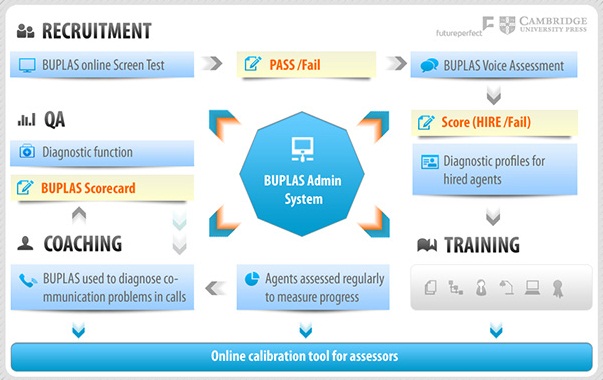 Quickly exclude low quality applicants with this fast, valid online test.
Assess the skills that research shows are essential for call success.
Target training to individuals' weaknesses and tailor your curriculum to actually meet the needs on-the-floor.
Assess your agents' communication performance on call using criteria that actually reflect call success and customer experience.
Profile agents to your customers' needs to maximize recruitment efficiency and customer satisfaction.
Quickly and easily ensure your team give accurate scores with online calibration that can be done anywhere, anytime.
Monitor trends, analyze impact, target agent feedback and improve efficiency with BUPLAS Admin, an end-to-end interactive database.
For more information, visit our official website buplas.com